Canada's Residential BBQ Cleaning Service
The 9 Step Process that takes the Grill from Grime to Shine
™
01.
Job Preparations 
Before starting our cleaning process we ensure that the proper preparations have been taken by the customer, for example that the BBQ has been properly disconnected from the gas source and is safe for our Grill Heroes to operate on. 
Learn more about Customer Preparations
Next our Grill Heroes will prepare the site to ensure that no mess is left behind, and will take Before pictures of the Grill and it's components. These images, along with After pictures, are provided to the customer after the cleaning!
Lastly, if necessary we will consult with the Customer about any damaged, broken parts, or areas of concern that are uncovered in our initial inspection of the BBQ. 

02.
Diving In and Disassembly
Our Grill Heroes will then set up their individual work stations and disassembly the BBQ. The parts that come out of the Grill will be set up and cleaned by our Parts Cleaning Specialist, while the firebox, hood, and other components that are not removed are cleaned by our Deep Cleaning Expert. 
03.
Cleaning Begins
Our Deep Cleaning Expert using our philosophy of top down cleaning, will begin by cleaning the Hood and Firebox of the Grill. Providing a custom cleaning process depending on the specific Make & Model of the BBQ. 
The Parts Cleaning Specialist will start by cleaning the Cooking Grates and Warming Rack (if applicable). Again proving a custom cleaning process depending on the specifics of the parts (Stainless Steel vs Cast Iron).
04.
Cleaning Continues
Next our Grill Heroes will move onto cleaning other areas of the BBQ.
After our Deep Cleaning Expert completes cleaning of the Hood and Firebox, they will move onto cleaning the burners. It's important to note that we are not licensed gas technicians and because of this, are unable to physically remove the burners from the BBQ. In order to properly clean the burners, we keep them right where they are and use our specialty burner cleaning brush to clean out at debris that may be clogging any of the burner ports. 
After completing cleaning of the Cooking Grates and Warming Rack, the Parts Cleaning Specialist will move onto the remaining parts of the Grill such as Flavourizer bars, Radiant Trays, Heat Deflectors, and any other part that is easily removed from the Grill. 
05.
Finishing Touches
Lastly, our Grill Heroes move onto the Finishing Touches of the Main Cleaning Tasks.
While our Deep Cleaning Expert performs a final wipe down of the Hood and Firebox, ensuring a clean to touch finish.
Our Parts Cleaning Specialist will remove the Drip Tray and Grease Pan, ensuring to scrape out and discard of any grease drippings, animal droppings and other unwanted toxins commonly found in the Grill. They will then finish off by scrubbing out the tray and rinsing everything off. 
06.
Quality Check
Both Grill Heroes will perform a visual inspection of each others work to ensure no spots have been missed, and that all areas of the Grill are up to Company Set Standards. 
During this step we'll usually spend some extra time to find a few ways to go above and beyond for our Customer!
07.
Re-Assembly & Exterior Cleaning/Polish
After Inspection, the Grill is re-assembled and we move onto cleaning out any Cabinets and Side Burners, as well as the exterior of the BBQ. 
We finish off by apply an exterior Stainless Steel Polish to ensure the Grill shines inside and out.
08.
Final Spot Check & Clean-up
Now that the cleaning is completed we perform our final 360 Spot Check ensuring all aspects of the BBQ are properly cleaned inside and out, and that we're confident our Customer is going to be thrilled with our work!
We'll also clean and pack up our supplies and equipment ensuring we're organized and ready to tackle our next job. 
09.
Job Completion, and After Job Consultation
Before leaving, we'll take our After Job Pictures so now we have some beautiful before and after photos to send our customer (feel free to share these with your friends and family, but be mindful not to make them too jealous!).
We'll also complete any job notes, including notes from our initial inspection, recommendations for replacement parts, and take down the BBQ Model and Serial # information (which is provided to the customer for future reference).
Last but certainly not least, we will connect with the Customer either in person or via phone call to communicate that we completed the job and provide any information and updates we feel the Customer may need, such as recommendations for replacement parts and tips for ongoing maintenance.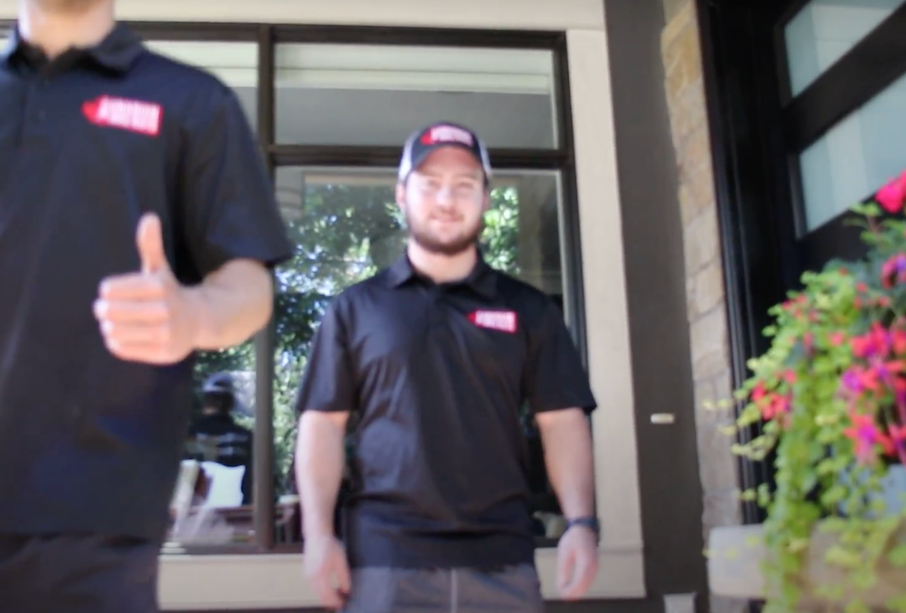 Established in 2015, Canadian BBQ Boys was founded by two hard-working University students and passionate grill enthusiasts. Since our inception, we have serviced over 6000 barbecues across Canada and have developed a unique set of skills and knowledge for how to properly clean and maintain barbecues. 
Above all else, our business is relentlessly focused on providing customers with a valuable experience that goes beyond just the cleaning service we provide with our seamless booking process, general barbecue maintenance tips online as well as after service support. Our company has gotten the attention of media networks including CP24 Toronto News Network as well as national coverage on CBC's Dragons Den and Joy TV. We are currently the highest rated company in the industry and continue to receive positive feedback from our customers.
NON-ABRASIVE PROCESS
We don't use anything that is highly abrasive on the barbecue, that means no grinders or heavy chemicals that can actually damage the grill. 
Beware, the use of heavy abrasives are very common in the industry, as it cuts down the time and effort to complete the cleaning but can cause irreversible harm to your grill.
NO MESS LEFT BEHIND
We know that there's nothing worse than hiring a Service Company to perform work on your property and coming home to a mess. 
That's why it's our policy to take all necessary precautions to ensure no mess is ever left behind. In fact we take this a step further and train our staff to leave the property cleaner than we found it!
COMMITMENT TO SERVICE
Our Company was founded on the strong principal that Customer Service comes first. Which is why we do not take our commitment to Customer Service lightly.
Over the years we have built a team of knowledgable and experienced BBQ experts. So that you know when you hire us, we have your back!
BEST IN THE INDUSTRY
Over the years Canadian BBQ Boys has established relationships with some of the largest players in the industry. In fact, we have been featured as Grill Maintenance Experts for the largest barbecue manufacturer in Canada, Napoleon. We have also been featured presenters at the Backyard Living Expo, and have a strong network of Experts in the industry!
TSSA APPROVED
We are proud to be one of the few companies to be TSSA Approved. This means that we operate in compliance with TSSA rules and regulations, and in doing so have been granted the ability to perform our services without the use of licensed gas technicians. 
To my knowledge, we are the only company in the industry to hold this special exemption.
Health and Safety
We're not exaggerating when we state that about 75% of barbecues have either rodent droppings or dead insects somewhere within the barbecue. This can create an unsanitary cooking environment, as when the grill is heated up, toxins can be released into your food. 
Excessive grease build up can also result in flare ups and grease fires that presents a dangerous fire hazard to homeowners. 

Longevity
Routine barbecue cleaning and maintenance is essential for the longevity of the grill. In fact, we've seen properly cleaned and maintained grills last 20+ years. 
Proper cleaning and maintenance can reduce the chances of rusting and corrosion that can lead to damage and significant functional issues.  
It's no question that we all love to grill, but in order to get the most the barbecue we invest in, we need to make sure to give the appliance the love and care it requires. 
Let's save the landfill and make curb-side BBQ's a thing of the past!
Performance
Many grill owners experience issues with the barbecues performance including uneven heat distribution, low flame, barbecue taking a long time to heat up, barbecue not achieving top temperatures, ignitor not functioning, etc. A good cleaning can solve many of these issues as they often result from excessive grease build up in the barbecue. 
WHAT TO EXPECT
WHAT NOT TO EXPECT
DO 1.
DO EXPECT THE BEST PROCESS FOR YOUR GRILL
DON'T 1
DON'T EXPECT THE ABILITY FOR OUR CLEANERS TO REPAIR
DO 2.
DO EXPECT THE BBQ TO BE CLEAN TO THE TOUCH
DON'T 2
DON'T EXPECT COMPLETELY BACK TO BRAND NEW CONDITION
DO 3.
DO EXPECT NO MESS LEFT BEHIND
DON'T 3
DON'T EXPECT FUNCTION TESTING OR FIXING
DO 4.
DO EXPECT NO UNSAFE CHEMICALS OR DAMAGING CLEANING PRACTICES LIKE ANGEL GRINDERS
DON'T 4
DON'T EXPECT THE REMOVAL OF BURNERS
HOW OFTEN SHOULD I CLEAN MY GRILL?
Canadian BBQ Boys recommends cleaning your grill twice per season for barbecues under normal use (1-2 times per week in the summer, periodically in the winter). The grill should be inspected by the homeowner or a licensed professional and cleaned prior to the first use of the season for health and safety and again towards the end of the season for longevity.
WHAT DO I NEED TO DO BEFORE YOU SHOW UP?
Before Arrival we require the gas or propane to be turned off and disconnected. We also need access to water and a power outlet. Lastly, we require that the job site is safe for our workers. 
HOW WILL YOU ENSURE NO MESS IS LEFT BEHIND?
Whenever possible we will move the BBQ to a safe location to ensure there is no chance of mess being left behind. If moving the bbq is not possible we bring a number of large tarps that we will lay down to cover the area and ensure no grease/grime gets on your deck or patio. We also take further precautions by wearing shoe covers whenever necessary and have extensive training on how to leave the job site cleaner than we found it!