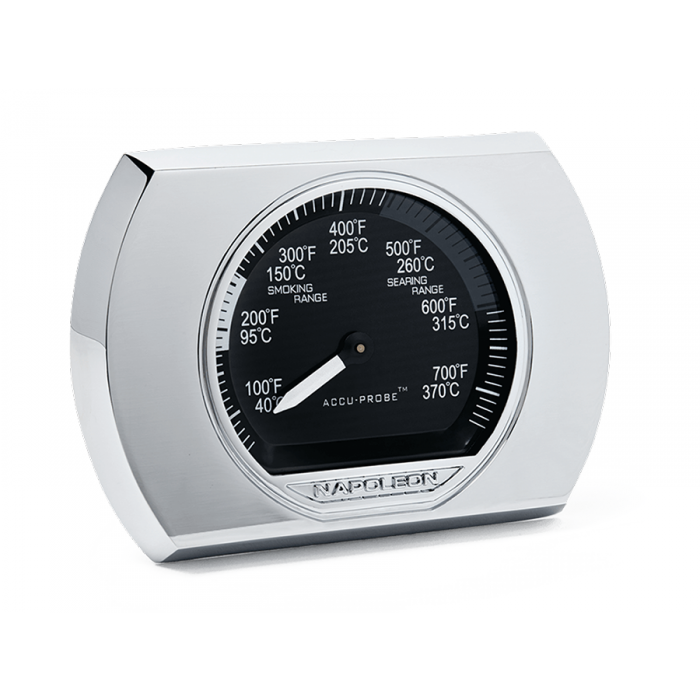 Napoleon Chrome Temperature Gauge
Qty. 1 x Napoleon OEM Chrome Temperature Gauge
Qty. 1 x Napoleon Chrome Temperature Gauge


Dimensions: 5 1/2" x 4"
Stem Length: 1"
Chrome logo plate
Fastening hardware included
Fahrenheit & Celsius temperature reading
Replaces Napoleon temperature gauge #N685-0004, N685-0004C, N685-0020, NP-685-002 & S91003
The Napoleon Chrome Temperature Gauge is a stocked item and ready to be shipped to you.

Fast Delivery in Canada. All Orders ship from Canada to Canada with no cross-border duties or shipping. 
Our BBQ Grill replacement parts are Designed to Fit your specific grill model. To confirm that you are purchasing the correct product, refer to your product manual's parts list or confirm using the list below.
Fits the following Napoleon Grills:​
308
 

308RB



308RSB
405RB
450
450RB
450RBI
450RSB
450RSIB
600RB
600RSIB
750RSBI
BIP500
BIP500RB
BIP500RBNSS-3
BIP500RBPSS-3
BIPRO450
BIPRO500
BIPRO500-3
BIPRO500RBNSS-3
BIPRO500RBPSS-3
BIPRO600
BIPRO665-3
BIPRO665RB-3
BIPRO665RBNSS-3
BIPRO665RBPSS-3
BIPRO825
BIPRO825RBINSS-3
BIPT450RB
BIPT450RBSS
COS425SBPK
LD325
LD410
LD410SB
P308
P308RB
P450

P450NSS-3

P450RB

P450RSB

P450RSIB

P450RSIBNSS

P450RSIBPK

P500

P500N

P500NK-3

P500NSS-3

P500P

P500PK-3

P500PSS

P500PSS-2

P500PSS-3

P500PSSRB

P500RB

P500RBPSS

P500RBPSS-3

P500RSIB

P500RSIBNCH-3

P500RSIBNK-1

P500RSIBNK-3

P500RSIBNSS-3

P500RSIBPCH-3

P500RSIBPK-1

P500RSIBPK-3

P500RSIBPSS

P500RSIBPSS-3

P500SS

P665

P665NSS

P665NK

P665PK

P665PSS

P665RSIB

P665RSIBNSS

P665RSIBNCH

P665RSIBNK

P665RSIBPCH

P665RSIBPK

P665RSIBPSS

P665SS

PRESTIGE 450

PRESTIGE 500

PRESTIGE 500RB

PRESTIGE 500RSIB

PRESTIGE 665

PRESTIGE I 450

PRESTIGE I P450

PRESTIGE II 308

PRESTIGE II 450

PRESTIGE II 600

PRESTIGE II 750

PRESTIGE II PT600

PRESTIGE II PT600RB

PRESTIGE II PT600RBI

PRESTIGE II PT750RSBI

PRESTIGE P500

PRESTIGE P500RB

PRESTIGE P500RSIB

PRESTIGE PRO 500

PRESTIGE PRO 500RSIB

PRESTIGE V PF450

PRESTIGE V PF600

PRO450RSIB

PRO500-3

PRO500RB

PRO500RSIB

PRO500RSIBNSS

PRO500RSIBN-3

PRO500RSIBNSS-2

PRO500RSIBNSS-3

PRO500RSIBPSS

PRO500RSIBP-3

PRO500RSIBPSS-2

PRO500RSIBPSS-3

PRO500RSIBSS

PRO600RB

PRO600RSIB

PRO665

PRO665-3

PRO665RSIB

PRO665RSIB-2

PRO665RSIBK-2

PRO665RSIBNSS

PRO665RSIBNSS-2

PRO665RSIBNSS-3

PRO665RSIBPSS

PRO665RSIBPSS-2

PRO665RSIBPSS-3

PRO825

PRO825RB

PRO825RSBI

PRO825RSBI-1

PRO825RSBINSS

PRO825RSBIPSS

PT308RB

PT450

PT450RB

PT450RBI

PT450
PT450RB
PT450RBI
PT600
PT600RB
PT600RBI
PT750RSIB
PT750RSBI
R365
R365-1
R365NK
R365NK-1
R365PK
R365PK-1
R365SB
R365SBNSS
R365SBNK-1-GB

R365SBNK-1-OB

R365SBPSS

R365SBPK-1-GB

R365SBPK-1-OB

R365SIB

R365SIBNSS

R365SIBPSS

R365SIBSS

R425
R425-1
R425N
R425NK
R425NK-1

R425NSS

R425P

R425PK
R425PK-1
R425PSS

R425SB

R425SBNK-CE

R425SBNK-1-OB

R425SBPK-CE

R425SBPK-1-OB

R425SBNSS

R425SBPSS

R425SIB

R425SIBBE

R425SIBNBE

R425SIBNSS

R425SIBPBE

R425SIBPSS

R425SIBSS

R525

R525NK

R525NK-1

R525NK-1-A

R525PK

R525PK-1

R525PK-1-A

R525SB

R525SBNSS

R525SBPSS

R525SIB

R525SIBNSS

R525SIBPSS

RSE425

RSE425RSIB

RSE425RSIBNSS-1

RSE425RSIBPSS-1

RSE425SB

RSE425SBNSS

RSE425SBPSS

RSE425SBSS

RSE525RSIB

RSE525RSIBNSS-1

RSE525RSIBNSS-1-A

RSE525RSIBPSS-1

RSE525RSIBPSS-1-A

RSE525SBNK

RSE525SBPK

RSE525SIB

RSE525SIBNSS

RSE525SIBPSS

RSE625RSIB

RSE625RSIBNSS-1

RSE625RSIBPSS-1

RXT365

RXT365-1

RXT365SIB

RXT365SIBNK-1

RXT365SIBPK-1

RXT365SIBNSS-1

RXT365SIBPSS-1

RXT425

RXT425-1

RXT425PCH-1

RXT425PSS-1

RXT425NCH-1

RXT425NSS-1

RXT425SB

RXT425SBMK-1

RXT425SBNMK-1-A

RXT425SBPK-1

RXT425SBPMK-1-A

RXT425SIBNK-1

RXT425SIBNSS-1

RXT425SIBPK-1

RXT425SIBPSS-1

RXT525

RXT525NSS-1

RXT525NSS-1-A

RXT525PSS-1

RXT525PSS-1-A

RXT525SIB

RXT525SIBNSS-1

RXT525SIBNSS-1-A

RXT525SIBPSS-1

RXT525SIBPSS-1-A

RXT525SIBNK-1

RXT525SIBPK-1

RXT625SB

RXT625SIB

RXT625SIBNSS-1

RXT625SIBNSS-1-A

RXT625SBPMK

RXT625SIBPSS-1

RXT625SIBPSS-1-A

RXT625SIBNK-1

RXT625SIBPK-1

ROGUE 365

ROGUE 365SB

ROGUE 425

ROGUE 425SB

ROGUE 525

ROGUE SE425RSIB

ROGUE SE525RSIB

ROGUE SE625RSIB

ROGUE XT365

ROGUE XT365SIB

ROGUE XT425

ROGUE XT425SIB

ROGUE XT525SIB

ROGUE XT625SB