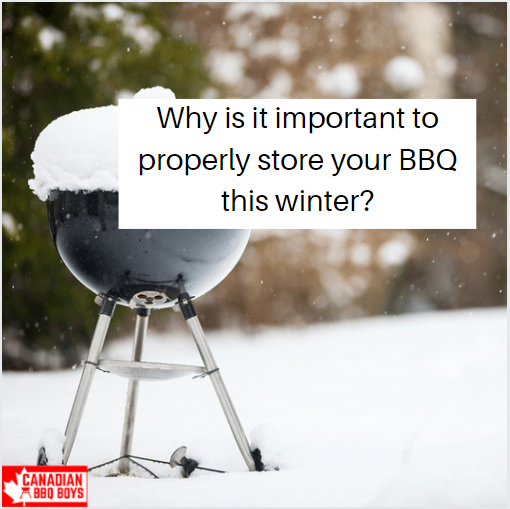 Storing your BBQ away for the Winter
It's that time of year again,
properly storing your BBQ for the winter is an important step toward prolonging the life of your grill.
Before you take any steps toward storing the BBQ you need to take the time to clean your grill. Do not put your grill away with food debris on your cooking grates, flavourizour bars or in your bottom tray. Make sure to disassemble the bbq and give it a deep clean before putting it to rest for the Winter. This is very important, as left over food and grease droppings will attract rodents and animals; such as mice, rats, squirrels, and in some cases racoons and possums.  
Some other great tips to ensure the BBQ is stored away properly;   
1. Coat your cooking grates with a high heat oil. This will protect them from rusting over an extended period.    
2. If your grill has a grease pan, make sure you empty it before storing your grill.    
3. Make sure to remove the ignition battery from your electric starter, if your grill has one, to prevent battery corrosion.    
To take things a step further, you can Winterize your grill by cleaning out and protecting the burners;      
1. Use a venturi brush to remove any debris and build up from inside the burners.   
2. Wrap the burners in plastic to prevent any insect from entering over the off-season   
3. Check your control knobs and the coupling nut of your regulator for any unwanted pests.   
While we're already knee deep in the grill, it's the perfect time to do further inspections and note down anything that will be needed come spring time.  Inspect your grill for cracks, scratches, or damaged parts. If any parts are not working or are damaged, you can replace them now so you can get straight to grilling when springtime rolls around.    
Lastly, when you are ready to store your grill, select the proper sized grill cover to protect your grill from the elements and pests. Once your grill is clean, dry, and covered, store it in a cool, dry place, preferably sheltered from rain and snow. Make sure that when storing a gas grill, you disconnect and remove the propane tank.   
Pay your grill an occasional visit during the winter months—to make sure no pests have made a winter home. Every grill is different. Yours may require a few extra steps to prepare it for the winter season. The key to prolonging your grill's life is to make sure that no matter the season, your grill is stored correctly and maintained for the season to come.